The British Shop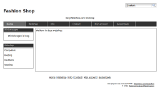 Note de satisfaction: 5/5
23 votes, 23 avis







The British Shop Belgium

www.britishshopbelgium.com
The British Shop
Statut
Ouvert : Les clients peuvent afficher et acheter les produits
Langue, Devise
Anglais, Euro
Avis
23 avis ont été trouvés.
marsLe mardi 18 octobre 2016, 5:37
nice mailorder service in Belgium for English Products
janLe jeudi 6 octobre 2016, 23:04
thanks for the good service!
RosemaryLe mercredi 14 septembre 2016, 18:04
I've picked my parcel up from the post office and am delighted!
I'm sure I'll be in touch again soon to stock up on a few ' Christmas goodies '
Many thanks again for the excellent service!
HildaLe samedi 6 août 2016, 11:54
My summer is complete with Rose's Lime Juice Original! Thanks for the fast delivery
Hilda Geurts
RobbieLe vendredi 15 juillet 2016, 17:36
British Shop you are the best!! I received my gift pack of tiptree marmalades and Jams today. Thanks for adding the free Union Jack Gift Bag
Twinings Earl GreyLe mardi 12 juillet 2016, 12:11
Just recieved my 6 boxes of my favourite Earl Grey Tea okay from the postman. Thank you!
Peeters ReneLe mardi 5 juillet 2016, 10:35
Heb mijn bestelling vandaag ontvangen in goede staat. Zal zeker nog eens bestellen
Vincent GoudsLe lundi 20 juin 2016, 17:20
Beste, Bedankt voor de levering. Die is vandaag in goede orde aangekomen. Zal zeker nog eens bestellen
Mike ParkLe vendredi 17 juin 2016, 17:50
Yes! My Super Cadbury Chocolate ordr arrived today - It's gonna make my friends birthday special. It's a present!
LauraLe samedi 11 juin 2016, 13:01
Thanks for adding the lemon puff biscuits to your website for me. You have made my mother very happy !
BartLe vendredi 10 juin 2016, 17:04
Where else can you find Haggis in Belgium!! The Best!
Maike BrunsLe vendredi 10 juin 2016, 17:03
Fijn dat jullie zelfs de Clotted Cream naar me hebben opgestuurd! Bedankt voor de service
Eric FokkeLe jeudi 9 juin 2016, 0:04
Thanks for sending my crumpets
Marcellus FloersLe vendredi 3 juin 2016, 16:56
Enjoying my Salt and Vinegars Crisps! Walkers are the best!
Yasmin WoodsLe jeudi 2 juin 2016, 12:36
Thanks Guys!!!! My goodies arrieved today.!
Brian WeertsLe jeudi 2 juin 2016, 12:34
Pork Pies online besteld. Hebben jullie speciaal ingepakt in ijszak en met 24hrs service verzonden. Is perfct aangekomen. Bedankt voor de moeite
Swen BrechtLe mardi 31 mai 2016, 12:21
Beste, de 10 blikken Bird's Custard Poeder zijn vandaag aangekomen. Dank voor de snelle levering.
Swen
ClaudeLe dimanche 29 mai 2016, 14:40
Mrs Ball's Chutney and Bovril arrived okay last Friday. Thank you and untill the next time
RobinLe samedi 28 mai 2016, 13:53
Thanks for bringing back the English Muffins for me
BrigitteLe vendredi 27 mai 2016, 13:18
Heb mijn bestelling vandaag ontvangen in goede staat.
JanLe vendredi 27 mai 2016, 13:16
Received my order. Everything alright. Thank you
Keep it Up!Le jeudi 26 mai 2016, 17:41
my first time doing food onlineshop, and it was beyond expectation...
Bernd JensLe jeudi 26 mai 2016, 17:29
Ordered Wednesday and Received my order Friday
So I am satisfied. Products as expected.
Donnez votre avis